Hey! This site is reader-supported and we earn commissions if you purchase products from retailers after clicking on a link from our site.
Factors such as every day wear and tear and bad weather conditions can take a toll on the aesthetic appeal of your house and driveway. Keeping the house clean and in order does not only take hard work but a lot of time as well. Fortunately, modern-day inventions, such as pressure washers, can help cut down the time needed to help your outdoor look clean and grime-free.
Finding it difficult to work with a pressure washer? The machine's performance can be enhanced if combined with a pressure washer wand. A wand makes it easier for you to clean every nook and cranny. When using a pressure washer alone, movements can be delayed and irregular, wasting pressurized water and air.
Best Pressure Washer Wand/Gun
*Notice: On mobile devices, scroll right to see entire table
| Product Name | Our Rating | Prices |
| --- | --- | --- |
| (Editor's Choice) Apache 99023802 4000 PSI Pressure Washer Gun Kit | | |
| General Pump Shark 87105910 4000 PSI Telescoping Wand with Shut-Off Gun | | |
| BE Pressure Supply 24′ Heavy-Duty Telescoping Extension Wand, Leverlock | | |
| Raptor Blast Deluxe 4000 PSI 7 GPM Pressure Washer Gun and 36″ Wand | | |
| Annovi Reverberi North America Telescoping Lance | | |
| Powerfit PF31050B Pole Kit for 3000 psi Pressure Washers, 9-Feet | | |
Benefits Of Investing In A Pressure Washer Extension Wand
Here are a few benefits of investing in the right pressure washer extension wand:
No Need for a Ladder: With a pressure washer extension wand, you need not worry about using a ladder or an elevated work platform for reaching spots. This enables homeowners to retain their balance and reduces the risk of falls whilst using a high-pressure machine.
Cleans Gutters from the Ground: Apart from using second storey windows and surfaces, a high-pressure wand can also be used for cleaning gutters from the ground. While you may have to invest in a hook style attachment, it is definitely worth the investment and makes it easier to clean gutters in a breeze.
Factors To Keep In Mind When Investing In A Pressure Washer Wand
Here are a couple of factors you should keep in mind while investing in a pressure washer wand:
The Right Grade: There is no point in investing in the wrong pressure wand. After all, why would you need a professional-grade wand for an inexpensive consumer-grade power washer?
The Right Tip: When investing in a pressure washer wand, don't forget to pay attention to the tip. You can choose from a quick-connector or an adjustable nozzle. A quick connector will make it easier for you to switch spray patterns frequently whereas an adjustable nozzle will make it easier for you to adjust the spray.
Types Of Telescoping Extension Wands
Before you invest in the right pressure washer wand, it is imperative you learn about its common types. Here are the most popular types of telescoping extension wands:
Aluminum Telescoping Extension Wands
Aluminum Telescoping Extension Wands are typically used for professional and commercial purposes. These wands are heavier and sturdier than their fiberglass options and tend to be more expensive as well. These wands can be used with hot water power washers. Most professionals use aluminum wands with support belts to help support its weight.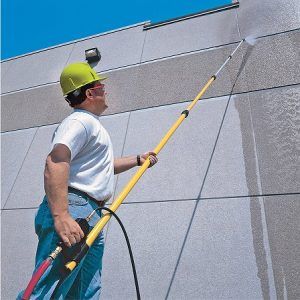 Fiberglass Extension Wands
Fiberglass Extension Wands are among the most affordable options out there. The instruments are lightweight and easy to use. However on the downside, fiberglass wands can only be used with cold water and may not be able to withstand high temperatures.
You will find these instruments flex a lot when fully extended so be careful. If you are using a fiberglass extension wand for the first time, test it in a secure area. Use the wand at intervals to prevent it from knocking things down, especially if you are standing on an elevated surface.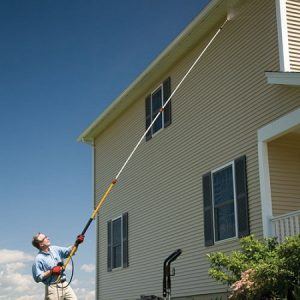 Telescoping vs. Threaded Connection
While some pressure wands are telescoping, others require you to attach them together. This makes it possible for you to clean hard to reach spots, whereas, the telescoping type is best suited for both residential and professional use.
What Is A Support Belt?
Wondering what a support belt is and why you would need one? These belts capture some of the weight and torque of the extension wand, causing water to shoot out at an alarmingly high pressure. These support belts may also feature attached pockets that allow you to have better control on the pressure washer wand.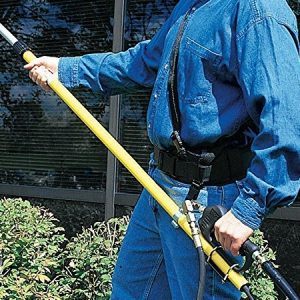 How To Make a DIY Washer Wand Roller Guide
Sure, pressure washers are indispensable tools that make it easier for people to clean outdoor surfaces but you might inadvertently damage sensitive material, such as wood, if you hold the wand close to it. To prevent accidents, consider making a DIY washer wand roller guide using casters and PVC pipe to prevent the wand from damaging sensitive surfaces. Follow these simple steps to make your own DIY washer wand roller guide at home:
Take a length of PVC pipe, approximately 16 inches
Bend the pipe from one end by heating it
​Rip the bent end of the pipe from the center using a hacksaw
​Drill a hole on the other end using a drill machine
​Screw in 2.5-inch casters on each end
​Use pipe clamps to secure the want to the bent end of the pipe
Fix the pressure wand in the guide until it is at a desirable distance from the surface. Don't forget to test it first!
Make sure the wand stays fixed by tightening the clamps.
Why Should I Use A Washer Wand Roller Guide?
While pressure washers are great for cleaning a variety of outdoor surfaces, a major concern is you can damage certain surfaces due to intense pressure levels. Using a wand roller guide keeps the instrument at a certain distance from the cleaning surface, preventing damage.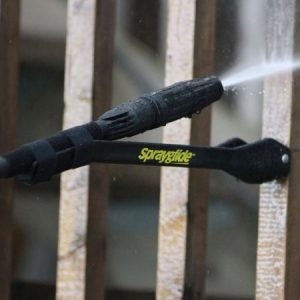 Telescoping wands are among the most popular pressure washer wands out there. While most wands extend about 2 to 3 feet so you need not bend over, these spectacular wands can reach up to 18 feet, allowing you to clean hard-to-reach spots without any difficulties.
Hopefully, this handy guide has provided all the information you need to select the best pressure washer wand. Good luck!