Hey! This site is reader-supported and we earn commissions if you purchase products from retailers after clicking on a link from our site.
Whether you wish to improve the exterior appearance of your home or are planning to sell it, a pressure washer is an indispensable tool that can help you clean up around the house. A pressure washer is an ingenious outdoor equipment that can help you clean a variety of items including patio furniture, fences, wood decks, driveways, boats etc.
These machines are either powered by electricity or gas and are designed to save time and money from washing items by hand. To use this machine, simply aim the wand and allow the pressurized water to shoot through. It's that simple!
Table of Contents
Best Pressure Washers 2023
*Notice: On mobile devices, scroll right to see entire table​​
| Product Name | Our Rating | Prices |
| --- | --- | --- |
| Sun Joe SPX3000 Electric Pressure Washer | | |
|   | | |
| SIMPSON Cleaning MSH3125-S Gas Pressure Washer (Editor's Choice) | | |
| Karcher G 2700 Gas Power Pressure Washer | | |
| Sun Joe SPX3001 Electric Pressure Washer | | |
| Generac 7019 Gas Powered Pressure Washer | | |
| WEN PW31 3100 PSI Gas Pressure Washer | | |
Factors To Consider Before Investing In A Pressure Washer
Here are a couple of factors you should keep in mind before investing in a pressure washer:
Cleaning Power: You can determine the pressure washer's ability to clean effectively by measuring the volume of liquid it is capable of delivering. This is typically denoted by gallons per minute or GPM. Insufficient volumes result in a spray that is too fine whereas inadequate pressure will result in unsatisfactory cleaning results.
Attachments and Features: The most advanced pressure washer in the market feature additional attachments. Some models may include them in the price whereas other brands may ask you to spend additional money on extras. Be on the lookout for extra safety features and functions that might make the machine safer and easier to use. Also lookout for functions that might help you get the job done quickly.
​User Comfort: Take notice of how easy it is to control the cleaning action. The pressure washer must be rated for portability, weight and other important features to determine how convenient or easy the device is to use.
Price: Price is among the most important factors you should consider before investing in a pressure washer. Typically powerful-gas powered models are costlier and require you to make a larger investment.
Electric Pressure Washers
Electric pressure washers are best suited for light and small projects, such as cleaning vehicles and patio furniture. Electric models are also quieter than their gas counterparts. Simply flick on the switch and watch the motor work its magic.
The machine also runs cleaner than a gas engine. Some electric pressure washer brands require users to directly plug the device into an outlet via a built-in cord without using an extension cord. If your pressure washer is compatible with an extension cord, only use the type specified by the brand to avoid accidents.
However, on the downside, these pressure washers give off less pressure, resulting in slow cleaning. Additionally, electric washer nozzles are typically made using less-sturdy plastic and not metal.
Pros Of Using Electric Pressure Washers
These appliances are best suited for light-duty applications and are fairly easy to use and maintain.
Simply plug in the washer and you are good to go. These appliances are simple to use
Electric pressure washers are typically quieter than their counterparts.
However, a small con of this device is that you need a power source. This will make it difficult for you to tackle jobs away from your home.
Gas Pressure Washers
Gas pressure washers are more powerful and function better than regular pressure washers in the market. These washers are suitable for tougher and larger jobs, such as cleaning the decks and patios among others. Gas pressure washers also give you the liberty to move around since they don't require you to be close to a power outlet. These models typically start by cranking a manual pull-start while some machines may feature an electric starter.
Pros Of Using Gas Pressure Washers
These appliances are best suited for heavy-duty cleaning that would not be possible with an electric pressure washer.
Gas models are known to get the job done more quickly and efficiently compared to an electric model.
These models are portable since they are not tethered by an electrical cord. This makes the device great for cleaning places, such as the shed or fences that are located further away from your home.
However, on the downside, gas units tend to be louder and are difficult to carry around unlike electric pressure washers.
Features To Look Out For In A Pressure Washer
Here are a couple of factors you should look out for in a pressure washer:
High-Pressure Hose
Be on the lookout for a high-pressure hose. High-pressure washer hoses can reach up to 25 feet and provide exceptional cleaning action for sidings, rooftops and other hard to reach spots. Greater pressure results in greater cleaning power.
Sturdy Tires
Opt for a pressure washer with sturdy and durable tires. Sturdy tires will allow you to conveniently drag the machine around according to your convenience regardless of the location. Good quality tires makes it possible for users to easily transport the device from here to there.
Detergent Tanks
Using a cleaning agent can be useful for cleaning an item that is particularly dirty. Fortunately, a detergent tank allows you to use detergent and other cleaning agents to remove dirt and debris from untidy items. However, keep in mind not to use harsh detergents that might cause damage to the system. Read the manual carefully before using any kind of detergent or cleaning agent.
Multiple Spray Tips And Nozzles
Opt for a product that features multiple tips and spray nozzles. This will allow you to clean surfaces using a variety of spray mists and speeds to complete different tasks. Cleaning large items may require you to use a wide, high powered spray whereas lighter, narrow nozzle sprays are beneficial for cleaning small items.
Cold And Hot Uses
Wouldn't it be convenient if you could use both hot and cold water for cleaning? Hot water can help individuals clean tough stains by loosening dirt particles. Depending on the model, you can find a pressure washer that can use hot and cold water for cleaning purposes. This will help you clean on multiple levels. However, decide whether you will need hot or cold water before initiating the project, since a tank specifically designed for hot water cannot be used for cold water.
Accessory Storage
Accessory storage space makes it easier for individuals to store extension cords, extra spray tips and other accessories without worrying about losing precious items. This eliminates and saves time for having to look for stray items before you begin your cleaning session.
Telescoping Handles
Opt for a pressure washer that features a handle. This will make the machine easier to transport regardless of the size and weight. Handles that conveniently go up and down make it easier for users to push and drag the unit wherever they want, without any problems.
Quick-Connect Capability
Quick connectivity makes it easier for the operator to mix and match nozzle attachments without wasting much time. Switching nozzle attachments also increases efficiency and improves cleaning capabilities. Rest assured, some machines also include adaptors that result in quick connectivity.
Types Of Pressure Washers
Before you spend your hard-earned money on the first pressure washer you set your eyes on, it is important you explore all your options. Here are the three main types of pressure washers in the market:
Professional Pressure Washers
As the name indicates, these models are built using a professional engine and pump. These machines are designed to run for several hours compared to a consumer pump. This means you can use the machine on a regular basis without worrying about wear and tear. This is not possible with a consumer unit since the pump is likely to burn out much faster and is not as durable.
Consumer Pressure Washers
Living up to its name, consumer pressure washers are more affordable units and are built for customers who wish to keep their house in excellent shape. These units are built for DIY-ers out there who like to get things done on their own. These pressure washers are equipped with a consumer-grade pump and engine. This means this machine is not designed for everyday use. You can, however, use it for weekly cleaning sessions without worrying about immediate damage.
Semi-Pro
Semi-pro models are designed to bridge the gap between professional and consumer units. These machines are equipped with either a consumer engine and a professional pump or a professional pump and a consumer engine.
Semi-pro pressure washers are a must-have for people who take home upkeep more seriously instead of considering it to be a nasty chore. Rest assured, these machines are designed to handle frequent use, resulting in longevity. This also guarantees you can use the pressure washer to your heart's content.
Tips For Using The Best Pressure Washers
Here are a couple of tips you should keep in mind if you want to make the most of your pressure washer:
When cleaning vertical surfaces, start rinsing from top to bottom and wash from bottom up.
Did you know that pressure washer nozzles are color coded? The colors depict the forcefulness and narrowness of the spray pattern. Typically green is 25 degrees, white is 40 degrees and red is 0 degrees. Black indicates low-pressure and is best suited for dispending soap.
​To prevent damage to surfaces, hold the tip of the pressure washer nozzle upwards while you clean. Stand at a distance to reduce the risk of accidents.
​Consider spraying the nozzle in a small inconspicuous area before testing the washer in a visible area. This will allow you to use a different nozzle or refine your technique without causing noticeable damage to the surface.
​To make cleaning a much simpler process, consider using a broad, low pressure nozzle to obtain adequate cleaning results. Using a narrow nozzle can cut into the cleaning surface, creating a mess.
​To prevent water from cutting into the surface, keep the nozzle moving.
Avoid spraying water under or behind vertical surfaces, such as lap siding. Additionally, also avoid getting water in the electrical outlet or light fixture. Additionally, avoid getting water inside electrical outlets, attic vents or soffit vents.
Consider investing in a pump preservative to prevent the pump from freezing during the winters. This will protect the pump against corrosion and freezing.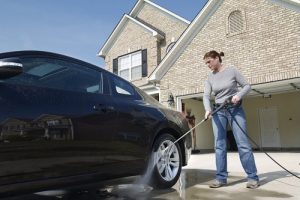 Top Pressure Washers In The Market
Are you in need of a pressure washer but are unable to decide on the best model? Investing in the right machine can make cleaning a less-hectic chore. Rest assured, there are plenty of brands out there for you to choose from. Whether you choose an electric or gas model is completely your choice. Consider where you will be using the machine and frequency of use before investing in the right product. Here are a few of our top picks:
Sun Joe SPX3000 Electric Pressure Washer
When it comes to manufacturing the best electric pressure washers, Sun Joe is quite a reputable name in the industry. The Sun Joe Pressure washer is a #1 Best Seller on Amazon and is one of the most popular products in the market. The machine is a combination of versatility, flexibility and high-speed performance that won't disappoint you.
The SPX3000 is designed for all kinds of cleaning activities and is available at a reasonable price. You can use this ingenious device in your driveway, home, apartment or for commercial use. This model features a powerful motor that shoots water at 2030 water pressure per square inch. Some notable features of the SPX3000 include:
5 Quick-Connect spray tips
Features an 1800-watt motor for maximum cleaning power
Comes with two different tanks for detergent
Features TSS (Total Stop System) that automatically shuts down the pump when it is not in use
Built as per CSA regulations
2-year Full warranty
AR Blue Clean AR118 Hand Carry Electric Pressure Washer
In search of a quality electric pressure washer that won't break the bank? Consider investing in the AR Blue Clean AR118. Annovi Reverberi has been manufacturing some of the best high-pressure pumps in the market and has been in the business for 50 years now. The brand has been working hard to improve the functionality and performance of their products.
Despite its reasonable price, the AR118 can be effectively used for outdoor and indoor cleaning. Thanks to its space-saving and compact design, the product is easy to transport and assemble. Here are a few notable features of the AR118:
Generates a water pressure measured at 1500 PSI and also has a 1.50 GPM
The product also features a safety shut-off feature
Designed with a 3-axial piston
The plungers are made from stainless steel
Comes with a standard 30-foot power cord
SIMPSON Cleaning MSH3125-S Gas Pressure Washer
The MSH3125-S Gas Pressure Washer is among the best gas pressure washers' money can buy. The product is a perfect combination of power, price, and quality. This is the perfect pressure washer for 'Do-it-yourselfers' who are in search of the perfect product that is reasonably priced and offers perfect balance. Equipped with the best high quality equipment, the engine is designed to offer optimal performance.
The pressure washer accommodates all your tedious cleaning needs. The easy to use product will eliminate grime, mildew or any kind of dirt. Additionally, with this product, you don't have to worry about poor-quality water hoses. The brand offers an abrasion resistant hose that is lightweight and flexible. This reduces the risk of accidents at a minimal price. Here are some notable features of this product:
Abrasion resistant hose that is flexible and lightweight
Choose from among 5 nozzles for your cleaning needs
Powerful Honda GC190 engine that will clean surfaces in a jiffy
Features a safe lock-out that reduces the risk of accidents
Karcher G 2700 Gas Power Pressure Washer
The Karcher G 2700 PSI Gas Pressure Washer is exceptionally durable and is considered as among the best gas pressure washers in the market. Delivering up to 2700 PSI with a welded steel frame, the pressure washer is built to last and features optimal performance. The device also features a folding handle that allows compact storage.
This makes it easier for operates to transport the machine from place to place without any problems. Apart from its durability, the machine features five pro-style quick connect nozzles that offer effective spray patterns that makes it easier for operators to complete chores around the house. Here are some notable features of the Karcher G 2700:
Powerful KPS 196cc engine for optimal performance
Folding handle that results in compact storage
Welded steel frame that ensures durability and longevity
Manufactured by one of the world's best pressure washer brands
Easy cleaning and exceptional performance
Compact and upright design that allows easy storage
Ryobi Electric Pressure Washer
The Ryobi 141600 is among the best pressure washers that are also reasonably priced. Despite its budget-friendly price, the product offers superior performance. The product is certified factory refurbished. Rest assured, the machine operates as good as new and does not have any major faults.
Operators can conveniently use the pressure washer to clean different types of surfaces and including driveway, patio, apartment etc. The machine runs on a powerful 13 amp motor that produces a water pressure measured at 1600 PSI. Here are some notable features of the product:
Features powerful 13-Amp Electric Motor
Backed by a 1-year warranty
Includes a powerful metal spray wand
Rugged roll-cage frame design
Efficient for cleaning residential areas
Generac 6598 3100 PSI 2.8 GPM Gas Powered Residential Pressure Washer
The Generac 6598 is a powerful residential pressure washer that will make cleaning your house a much pleasant task. The ingenious device can also be used for heavy-duty jobs, such as cleaning sidewalks, decks, pavements and sidings. Customers will be pleased to know they won't have to put in much effort, thanks to the powerful motor.
The product also includes easy-access hose connections that makes hose connection easier. Additionally, the machine also features welded steel frame construction that ensures the durability of the unit. Some notable features of the Generac 6598 include:
Features high-performance spray gun
Axial cam pump that eliminates the need for individuals to kneel on the ground
High performance spray gun
30′ PVC Hose that connects to the rear of the spray fun for maximum convenience
Includes 5 nozzle tips for added convenience
WEN PW31 3100 PSI Gas Pressure Washer
The WEN PW31 3100 is a popular gas pressure washer that offers several benefits. The product features a powerful 208cc 4-Stroke Engine that pumps 2.5 gallons of water per minute, resulting in fast and easy cleanup. The heavy-duty washer features reinforced wheels that are up to 12 inches in diameter. This allows individuals to transport the washer on tough terrains without any inconveniences.
The WEN PW31 3100 also features an onboard soap tank, making it easier for you to get rid of tough substances. The device features a collar towards the end of wand that makes it easy for individuals to install one of the five nozzles. Here are a few features of the WEN PW31 3100:
30-foot hose that is perfect for completing jobs with larger surface areas
Includes a soap tank that makes it easier for to break tough stains
12-inch flat wheels
Quick change lance for easier installation
Conclusion
The above are just a few of the top electric and gas pressure washers in the market. Hopefully, this helpful guide has taught you everything you need to know about investing in the right pressure washer. Before purchasing a product, don't forget to check out its customer reviews online to get an idea of how well it works. Additionally, do not hesitate to contact the manufacturer if you have any questions. Good luck!